Classy Coosa is an exciting program we have implemented this year at Coosa Christian Elementary. We believe children have the ability to learn a vast amount of information if given the chance and the right environment. Our Classy Coosa Program teaches our elementary children through song, chant, and repetition. This year we are learning 64 timeline entries, beginning with the 7 days of creation up to the fall of Egypt; all the major systems of the body, and 12 major biology facts; all the presidents, all the United States, capitals, major features and their locations; skip counting up to 15 with squares and cubes; over 20 major US History facts;over 50 Latin root words; 24 Bible Catechisms; Proverbs 3:1-12 and John 1:1-7.
Along with learning the information, we have and plan to apply this information in exciting ways. We had a Civil War reenactment in December. We recognized tycoons with a "Fancy Dress" Day. We will celebrate The Great American Melting Pot with an Immigration Celebration. We also will celebrate our presidents with a President Parade. Our 1st - 4th grade students made life size replicas of their bodies with the systems put in place. We will have raised beds this spring in our courtyard to have hands-on experience with how plants grow. As well as having a few live animals visit the classrooms, such as a snake and a guinea pig, we will visit the zoo.
We will end the year with an opportunity for the students to celebrate what they have learned. We will give the students an opportunity to recite all they have learned in the areas of History, Science, Math, Geography, and Timeline. We will award students who can recite at least one area in its entirety. The students who can recite all memory work in all 5 areas will be deemed a Classy Coosa Conqueror and will be awarded with a grand celebration.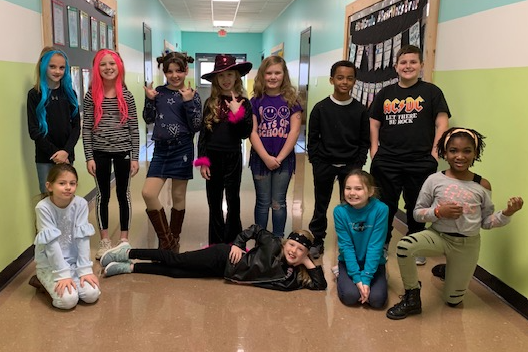 Tremendous growth, spiritually and physically, as well as intellectually, is what you will see your child experience at Coosa Christian Elementary. We know the formative years are extremely important in the life of a child; consequently, Coosa Christian's dedicated, caring staff of certified and highly qualified teachers approach these years with a highly engaging research-based, proven traditional educational strategy interwoven with a Biblical worldview.
Here at Coosa Christian, we proudly use the Abeka program for all of our academic areas. This traditional Christian program uses a practical, spiral-based approach to learning. We also incorporate other research based tools, such as the Shurley Method and Renaissance Learning. Strategies, furthermore, utilizing technology, when appropriate, enhances our students' learning. Our students learn in small class-size environments that allow individualization and collaboration that strengthens their communicative, problem-solving, and collaborative skills. An important part of our overall mission at Coosa Christian is to ensure every child is academically challenged to become an adept Christian leader in an ever-changing global society.
Spiritually, we desire our students, upon leaving our campus, to know what they believe, to understand why they believe it, and to be able to communicate their belief in God's Word in leading others to Christ. From the moment they step through our doors, children's spiritual lives are wonderfully enhanced at their learning levels for quality growth with daily Bible studies, weekly chapel services, and ongoing scripture memorization practices. I like to say everything here at Coosa Christian is about Jesus.
Located on the beautiful campus of The Church at Wills Creek, Coosa Christian Elementary is a safe and exciting learning environment where our students grow academically, physically, spiritually, and emotionally into the Christian leaders of tomorrow. We are truly blessed to be a part of guiding children along the path God has for them.
Come and experience the family atmosphere. Come and experience the Christ-centered academics. Come and experience the difference at Coosa Christian Elementary.

Leta Freeman
Elementary Principal